HEBER VALLEY QUILTERS
HEBER VALLEY QUILTERS WEBSITE HAS MOVED!
NOTICE: THE HEBER VALLEY QUILTERS WEBSITE HAS MOVED TO www.hebervalleyquilters.com
YOU MAY STILL VIEW 2008 AND 2009 NEWSLETTERS IN "PUBLICATIONS"
OUR PURPOSE
To provide a forum for local quilters of every ability and skill level to meet together on a monthly basis to promote the art of quiltmaking and:
Learn new quilting techniques.

Teach quilting and related sewing skills to one another.

Show and tell current projects and ideas; also provide encouragement and support for each other.

Provide opportunities for charity service to our community.

HAVE FUN!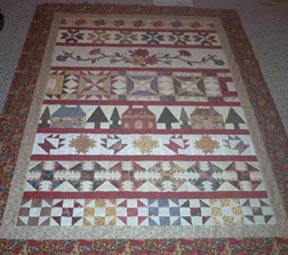 2004 Guild Row Quilt - Designed and sewn by CAT
Welcome! You are guest # 11073
Visit our guild BLOG, updated weekly!